I thought the Wigan win over Manchester City last night warranted an update on my Sunday article just to see what's changed.  So here's an updated  FPL double gameweeks and blank gameweeks article

 FPL double gameweeks and blank gameweeks – an update after the Man City loss
Again apologies for people reading all the articles but I'm keeping with the policy of each article being standalone so there's a fare bit of repeating of other articles.  If you just want a summary there's one at the end.  Here's the link to my Sunday article
THE BASICS
Firstly as I said above,  I'm trying to write each article as a stand alone article so you don't need to know any background if you're just trying to understand what could happen for the first time. If you're well up on everything you may have to skip some stuff. Here's the link with background from our original fantasy premier league double gameweeks article
In short if things follow previous years and the UEFA rules then there will potentially be a:
Blank GW31 for the FA Cup quarters
A DGW34 where most of the postponed games will go to resulting from the quarters clashing with the GW31
Blank GW35 for the FA Cup semi finalists.
A DGW37 for the postponed GW35 clashes with the semis
RESULTS ASSUMPTIONS
It's alot easier and clearer to formulate a strategy if you make some results assumptions and then layout how the fixtures would look.
Firstly lets make some assumptions on the remaining 5th round games
Swansea v Sheffield Wednesday replay – Swansea win (Sorry again!! Alex)
 Spurs v Rochdale replay – Spurs win the replay
The quarter final draw has been made. Here are the results assumptions I've made taking into account the above as well.
Leicester v Chelsea – Chelsea win
Man Utd v Brighton – Man Utd win
Swansea v Spurs – Spurs win
Wigan v Southampton – Southampton win
So the semi finalists will be Chelsea, Man Utd, Spurs and Southampton
HOW THE FIXTURES WOULD LOOK WITH THOSE RESULTS
Italics are the games that were postponed into new gameweeks
Green fixtures are guaranteed games in the blank weeks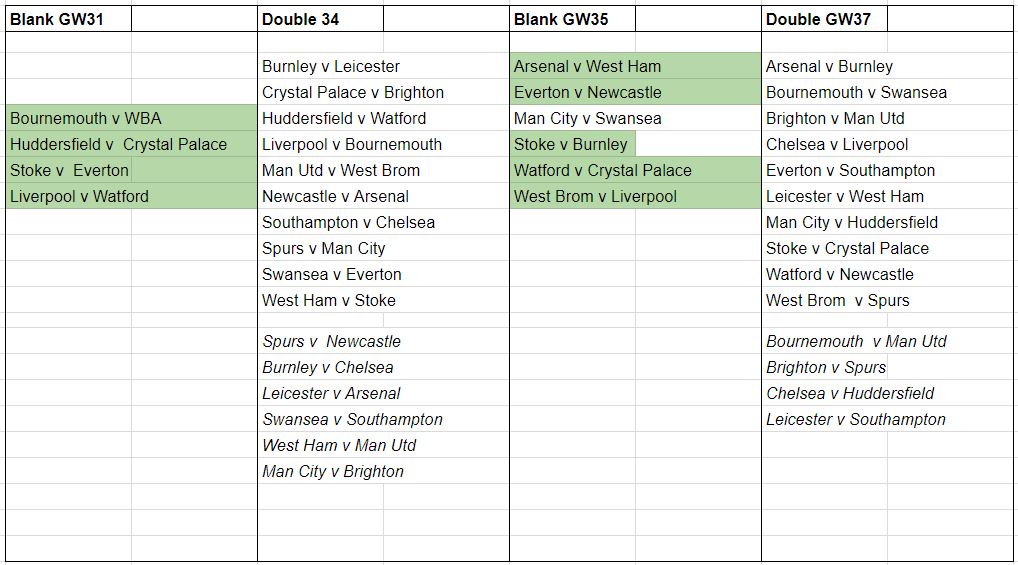 So under those results assumptions the only change is that Man City v Swansea stays in the blank gameweek of GW35 although it is not guaranteed to stay as Swansea are still in the FA Cup.  Leicester v Southampton would move to GW37.
The teams in italics will have doubles in the gameweeks they are placed in. The teams in GW35 will not have a double in GW37.
However there are 2 other groups of teams to note.
Doubles in GW34 and GW37
This is useful for those free hitting in GW35 to maximise DGW players
Man Utd, Spurs, Chelsea, Leicester and Southampton
Doubles in GW34 and fixture in GW35
This is useful for those without a free hit or not using there free hit in GW35
 Newcastle, Burnley, Arsenal, Swansea, West Ham and Man City
SO WHAT DOES THIS MEAN?
So on the fixture assumptions above the implications to me are no different so I've repeated what I said below in my Sunday article.  The big difference being that Man City wont have doubles in both 34 and 37 but will have a fixture in 35.  Man City could be heavily rotating by then having won or effectively won the league so losing the extra double may not be the issue it could be
Wildcarding in 32/33 and free hitting in GW35 gives you a chance to pick a team on the wildcard that has players with doubles gameweeks in 34 and 37. That's a pretty tasty set of teams plus a few teams with cheap players. This to me is the big advantage in free hitting in GW35 rather than 31. Hopefully the 4 fixtures plus the 4 transfers to go gives you time to get some sort of team out for 31.
If you don't have your free hit then wildcarding in 32/33 will have to be a balance the double 34/37 teams with the GW35 teams. At least there are a number of teams with doubles in 34 and fixtures in 35.
Summary
Here are the implications in short.  You need to see the schedule above and the what does this mean section for fuller implications.
The Man City loss doesn't change GW31 as their GW31 opponent Brighton have already gone through to the quarters.  On that basis it doesn't change the potential DGW34 as the fixture should still be postponed to then.
However it does mean that the GW35 Man City v Swansea fixture will stay in 35 (assuming Swansea don't get to the semis) and now Leicester v Southampton will go into the potential DGW37 giving them 2 teams both doubles in 34 and 37.
To me it doesn't change my plans at the moment.
For my free hit gone team, I think I will wildcard in 32/33 with a balance between 34 and 35 players, bench boost 34 and triple captain 37. You can't use 2 chips in 1 gameweek.
For my free hit intact team I will  I think I will wildcard in 32/33 maximising the players with doubles in 34/37, bench boost 34, free hit 35 and triple captain 37.
I hope that helped
Follow us on twitter and facebook for article updates and news.
GEEK LEAGUES
Fantasy Premier League: 5379-1967
Sun: FantasyFootballGeek SGDKX9Y3
TFF: FantasyFootballGeek PIN 8000919 Passcode 1159
Sky: FFGeek 8310511